---
"BURNING BRIDGES" – Who's on the cover?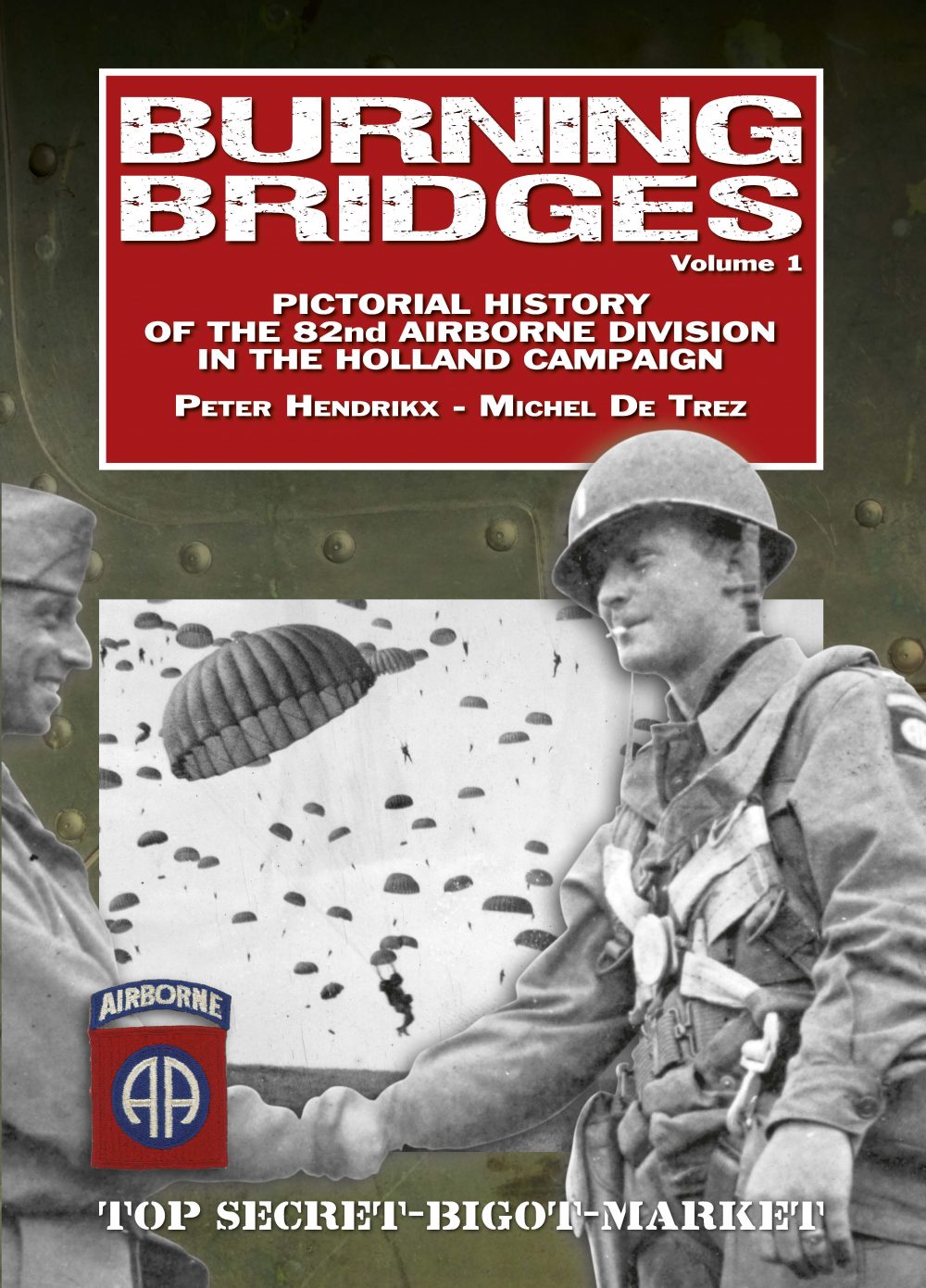 A Pathfinder in Operation MARKET GARDEN
by Mike Vinticis
The 82nd Airborne's Pathfinder team, led by 1st Lt. G. Wilfred Jaubert, jumped on DZ O near Overasselt, Holland, on September 17, 1944. Right behind him came the armada of the 82nd Airborne Division.

G. Wilfred Jaubert, sometimes called "Jo," a French-speaking young man from Louisiana, joined the Army in 1941. He was commissioned as a 2nd Lieutenant in 1942 and joined in an armored unit at Fort Jackson. He soon volunteered for the paratroopers and went to a qualification course at Ft. Benning. His first assignment was as a platoon leader in D Company, 2nd Battalion, 504th PIR. He was shipped overseas to Casablanca, French Morocco, went to Oudja, and made his first combat jump in Sicily. Promoted to 2nd Battalion S-2 intelligence officer, he made his second combat jump at Paestum, Italy, where he was wounded in the leg by shrapnel.
Jaubert was sent to a hospital in North Africa. After recovering from his wound, he was afraid he would be reassigned to an infantry unit. He heard that the 504th Pathfinders were looking for an officer and volunteered. Sent to Leicester, England, for pathfinder training, the 504th 2nd Battalion S-2 officer was placed in overall command of the 82nd Airborne Pathfinders for the Holland mission.
On the picture selected for the "Burning Bridges" book cover, Jaubert shakes hands with Capt. Richard K. Jacobsen, the Operations Officer of the IX Troop Carrier Pathfinder Group, before the Holland mission. Jacobsen's pilots trained with the pathfinders to form a team for maximum efficiency and cooperation.

---
Jo Jaubert stayed in the Army until 1961. Post war, Captain Jaubert was able to get a slot at the Army Flight School as a Liaison Pilot. This was for single-engine reconnaissance and artillery spotting aircraft, which culminated in the L-19 Bird Dog, later designated the 0-1 Bird Dog. He spent most of the remaining Army career in flight training, retiring after 20 years, as Director of Primary Fixed Wing Training. Major Jaubert also fought in Korea where he won the Distinguished Flying Cross while flying his unarmed airplane.
The History behind a uniform
More than 20 years ago, Michel De Trez, co- author of the book "Burning Bridges," came in contact with Jack Jaubert, Jo's son. Jack had a large amount of his father's memorabilia from WWII including Pathfinder reports, uniforms insignias, photographs… Jack generously donated the memorabilia to illustrate the chapter of the book dedicated to Pathfinders and to be on display in the WWII museum De Trez owns, D-Day Experience.
Within the photographs was an unpublished and unseen shot of Jo Jaubert before the Holland pathfinder mission. What was he thinking when this photo was taken? Maybe he thought this would be the very last picture of him. In a few hours he was going to be the first to jump into enemy-occupied territory in full daylight.
At that time, De Trez made a promise to Jack, "I work on a series of pictorial history books covering the WWII U.S. Airborne operations during WWII. This is thousands and thousands of pages. It's a life achievement. It's going to take a while. But, your father will make the cover of the book on the Holland operation."
A paratrooper jumping in a bomber pilot uniform!
Strangely, within Jo's combat uniform was a bomber pilot flight uniform, and the photographs indicated that that's what he wore when he jumped into Holland.
"I'm sure you wanted to know why Jo jumped in a pilot uniform?" asked the author. "Well, that answer is in the book!" he said with a smile.
Jaubert's pathfinder uniform is now on a mannequin dressed up as he was on D-Day before he jumped into Holland.
"My mother is very pleased that you have done such a fine work with the mannequin," said Jack.
Market Garden has really impacted the life of the Jaubert family. "I was at the 40th anniversary of Market Garden with my father, recalled Jack. On the 37th anniversary (17 Sept
1981) my father pinned my jump wings on to me following my fifth jump at Ft. Benning Airborne School."
The year after, Jack jumped with the 10th British Para in Arnhem.  Jack was a U.S. Army captain, on active reserve status, while working a civilian job. He was a company commander of a Reception Station. Shortly afterward, he took an assignment with his civilian company in London, U.K. It was there that he spent two years attached to the 10th Battalion of the British Parachute Regiment. He had orders, although he was in a non-pay status. This was followed by two years with a British Engineer Unit.
His original U.S. Army qualifications were as a Combat Engineer Officer. Jack received his U.S. Army commission in the same manner as his father (Reserve Officer Training Corps) while at Louisiana State University.
The legacy continues
In mid-August, Jack received a message: "Hello Jack, Happy Birthday. Many years ago I promised you that your father will make the cover of the book about the 82nd AB in Holland I was working on. The small planned book has evolved into an almost 1000 pages, 2 volumes, and I am finishing it now. The first copy will be jumped on September 17, from an original C-47 aircraft, on the original Drop Zone "Klein Amerika". I just wanted to let you know that I kept my promise. Your father is on the cover."
The answer was almost immediate, "Oh my! How exciting! I am overcome. Speechless. We will talk." and few hours after… "I have booked a flight. Arriving Amsterdam 14 September."
Once again, Jack will be in The Netherlands for the anniversary of Market Garden, his sixth trip to the Drop Zone, once by parachute. But, this time to receive the long waited for book.